KEEPING MUSIC IN THE SCHOOLS SINCE 1999
Founded as a non-profit in 1999, Friends of Jazz's main purpose is to keep music in the schools.  FOJ's mission is to assure the continued growth and development of jazz performance, appreciation and education. The motto "Keeping Music In The Schools" continues to be their guiding force.
Musical education, experience and expression have the unique ability to stimulate young minds. Encouraging the enjoyment of jazz, truly an American art form, is a paramount and the standard reason for the variety of programs supported by Friends of Jazz.
Partnering with local businesses, school districts and universities has provided Friends of Jazz with a community to work together toward common goals. Programs such as the High School Showcase, fourth grade recorder program and college scholarship awards are all ways that FOJ has made an impact on young musicians throughout the county.
Funding is generated from the support of individuals, other organizations and businesses through grants and a variety of special events held throughout the year, including the annual Mardi Gras ball held every spring.
Now in our third decade of helping young musicians in Orange County, we are proud of our achievements that have touched the lives of well over 700,000 musicians and look forward to keeping music alive in the hearts and minds of so many others.
The good times rolled at Mardi Gras 2023!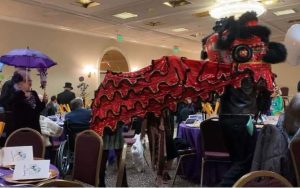 Few annual Friends of Jazz events are better and none are bigger than the king of all major fundraising events, the Mardi Gras Ball, held March 19 at the Velvet Rose in Orange…
SCHOLARSHIP AWARDS AND PERFORMANCES WILL CARRY THE DAY One of FOJ's major events puts the spotlight on the two local colleges whose students will provide continuous live jazz for The Muck's 2023 Artistic License Fair. Saturday, November 4, noon to 4pm --That's the day...
Membership Party    Oct. 8
College Scholarship Awards     Nov. 4
Fullerton College Concert     Nov. 21     
CSUF Reception/Concert     Dec. 1   
Sponsors Party     Jan. 14     
Mardi Gras Ball     March 3